Alachua County Jane Doe
Sex
Female
Race
Black
Location
Gainesville, Florida
Found
August 20, 2003
Unidentified for
15 years
Postmortem interval
1-3 days
Body condition
Decomposed
Age approximation
2 months - 1 year
Height approximation
1'10
Weight approximation
10 pounds
Cause of death
Undetermined(S)
Alachua County Jane Doe was an infant found floating in a pond in 2003.
Case
On August 20, 2003, an Alachua County resident discovered the full-term infant floating in a private pond located in a residential neighbourhood at 1903 NW 102nd Place, Gainesville, Florida.
She was found in 2 to 4 feet of water. Due to lack of evidence at the scene of the crime, the pond is believed to only being a dumping location, and that infant passed in another location.
DNA testing performed on the decedent indicated the infant was born to two black parents that were of Caribbean descent. While Isotope testing indicated that the child was born in the United States.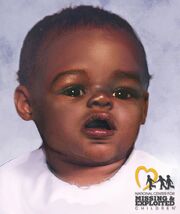 Links