Bertha Alicia Holguín Barroterán was a young woman who was found near 34th Street and Broadway Road in Phoenix, Arizona. Not much information is known about her and her disappearance.
She underwent testing by the DNA Doe Project and her identity was announced on December 9, 2019.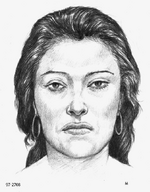 Characteristics
She had brown, curly hair which was 9.5 inches long and brown eyes.
She had scars on her right hand and acne scars on her face.
She also had a torn earlobe (which is possibly an old injury)
Clothing and accessories
She wore blue jeans (size 13), a white tank top, a brown belt (size 28), a black bra (size 38C) and white "Reebok" athletic shoes.
She also wore gold hoop earrings.
She was found carrying Mexican money.
Sources
Community content is available under
CC-BY-SA
unless otherwise noted.