Carl Merrill Bradley is a United States Navy Sailor who was killed on the USS Oklahoma when the Japanese attacked Pearl Harbor on December 7, 1941. His remains were identified on February 5, 2021.
Background
Carl Bradley was born on May 6, 1922 to Amos and Hazel Bradley in Shelley, Idaho. Growing up, he was the sixth of twelve siblings. At some point, Bradley joined the United States Navy and was assigned as a Fireman, Second Class, of the USS Oklahoma.
Pearl Harbor Attack
At about 7:48 AM on December 7, 1941, the Imperial Japanese Navy Air Service conducted a surprise military strike against the United States at the naval base in Pearl Harbor, Hawaii. The USS Oklahoma was one of the first ships to be attacked. The ship was torpedoed and was capsized, killing Bradley in the process. His remains were located between 1941 and 1944, but not identified. As a result, he was considered Missing in Action while his remains were buried in the Punchbowl at the National Memorial Cemetery of the Pacific in Honolulu, Hawaii.
Overall, 2,335 Americans were killed in the attack, 429, including Bradley, were on the USS Oklahoma. The surprise attack led to US President Franklin Delano Roosevelt to declare December 7, 1941, "a date which will live in infamy". The following day, the US Congress declared war on Japan which led to the United States' formal entry into World War II.
Aftermath
After his death, Bradley was awarded the Purple Heart. He was memorialized on the USS Oklahoma Memorial and on the Honolulu Memorial of the Courts of the Missing in Honolulu. He has an additional memorial marker at the Hillcrest Cemetery in Shelley.
In September of 1947, the American Graves Registration Service was tasked to identify unknown soldier's remains from the Pacific Theatre. However, they were only able to identify thirty-five of the crewmen from the USS Oklahoma. In October of 1949, the American Graves Registration Service ruled Bradley, along with many soldiers whose remains were not identified, as unrecoverable.
Identification
In 2015, the Department of Defense and the Defense POW/MIA accounting agency initiated a program to exhume the unidentified sailors of the USS Oklahoma to try and match their DNA against the DNA of family members whose loved ones were never identified. Scientists at the DPAA used anthropological analysis and scientists from the Armed Forces Medical Examiner System used autosomal DNA (auSTR) analysis to identify the servicemen.
Through these methods, Carl Merrill Bradley was identified on February 5, 2021. His identification was announced on May 14, 2021. He will be buried in his hometown on June 26, 2021.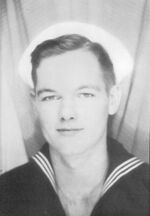 Sources