Davidson County John Doe was a male located under an overpass off Interstate 65, near the Cumberland River. Following the release of two reconstructions in 2020, his listings were removed from national databases, suggesting he was identified.
Case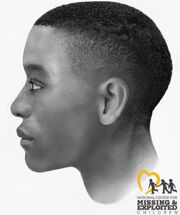 The male's body was located in the Cumberland River, in the vicinity of Riverfront Park. The scene was close to a northern overpass of Interstate 65. He was not facially recognizable, as he died days before.
On February 12, 2020, two reconstructions of the decedent were released by NCMEC. By February 26, his page was removed.
Clothing
He wore only a shirt (description unavailable).