Hillsborough County John Doe was a male discovered in a vacant lot in Tampa, Florida in 1973.
Case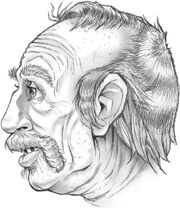 The remains were found days after the man died. His clothing appeared to be "very old." He was later buried.
Following an exhumation decades later, it was discovered through isotope testing that he grew up prior to the 1930s and was native to the Southeastern United States.
Characteristics
His nose had been fractured several times during life, which would have been visible.
He is illustrated to have had several missing teeth
Clothing
A "sport-type" shirt.
Blue cotton twill pants.
Black socks.
Black shoes.
A gray hat.
Sources
Community content is available under
CC-BY-SA
unless otherwise noted.