Howard County Jane Doe was a woman found alive in a field in 1971. She died nearly two months later in a hospital.
Case
On July 15th, 1971, two boys riding mini-bikes discovered the woman in a wooded area off a dirt road near Maryland Route 99, in Woodstock, Maryland. She was "injured", and in a semi-conscious state. She could not be identified and was hospitalized at St. Agnes Hospital in Baltimore. The woman was described as suffering the effects of exposure and in "poor condition".
When she was found, she was described as wearing a blouse, skirt, slip, and underclothes, but police could not find her shoes or purse at the scene. Without knowing her identity and medical history, doctors were unable to treat her or explain her condition, though they determined that she had recently had a stroke on her left side. She later died on September 7, 1971.
Characteristics
She was white.
She had brown hair that was beginning to gray.
She had brown eyes.
She had a hump in her nose.
Her right ovary had been removed.
Her blood type was O+.
She had recently suffered a stroke on her left side (though this was not thought to be the cause of her semi-conscious state).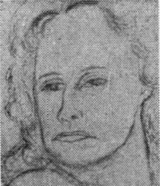 Sources
Community content is available under
CC-BY-SA
unless otherwise noted.