Joanne English
Sex
Female
Race
Black
Location
Rockledge, Florida
Found
October 11, 1980
Unidentified for
39 years
Postmortem interval
1 day
Body condition
Recognizable face
Age approximation
21-30
Height approximation
5'6
Weight approximation
120 pounds
Cause of death
Gunshot (homicide)
"Joanne English"
 was the alias used by a woman found murdered in 1980.
She is currently undergoing testing by the DNA Doe Project.
Case
The victim's body was discovered by a passing motorist off an isolated rural road in Rockledge, Florida on October 11, 1980. She had been shot in the head.
Authorities learned that she had previously been arrested in Pinellas County, Florida while trying to discover her identity. The name that she gave was "Joanne English", which turned out to be false, along with a false social security number and date of birth.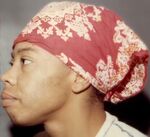 Characteristics
She had reddish-brown with black roots, indicating she colored her hair.
Scars over the left and right buttocks.
Scars on the back of both heels.
One left ankle scar that looks like it had stitches.
She possibly might have had her ears pierced, although this might not have been the case at the time of her arrest.
Clothing
Red t-shirt with the Pringles chip logo
Blue jeans with the bottoms rolled up to make cuffs
White tennis shoes without strings
Sources
Community content is available under
CC-BY-SA
unless otherwise noted.