Kiu Abe was a woman who was one of the many victims of the Great East Japan Earthquake in 2011. Her body was found by a fisherman 13 kilometers away from her home afterward.
She was identified in 2020.
Case
In 2011, Abe was stated to have been living alone in the Minamihamacho district of Ishinomaki, Japan. On March 11th, 2011, a megathrust earthquake occurred in the Pacific Ocean just east of the Oshika Peninsula of Japan's Tōhoku region followed by a catastrophic tsunami measuring 40.5 meters crashing into the region, recorded as the most powerful earthquake in Japanese history and the fourth most powerful earthquake in the world. Most residents of the prefectures in the Tōhoku region only had eight to ten minutes of warning before the tsunami would make landfall only for most of the evacuation sites to be washed away in the ensuing waves. The catastrophe was accompanied by freezing temperatures measuring up to 0 degrees Celsius and snowfall that further hindered rescue efforts.
The catastrophe resulted in the meltdowns of the Fukushima Daiichi nuclear reactors which caused radioactive water to be discharged into Fukushima from the power plant. The Great East Japan Earthquake is titled as the 'costliest natural disaster in history' by the World Bank and resulted in 19,747 deaths as of 2021 with Abe amongst them alongside Ishinomaki having the highest death toll. 2,556 people from the region are still missing ten years later with an unspecified amount of unidentified deceased victims.
On May 19th, two months after the catastrophe, Abe's mangled body was found by a fisherman alongside debris within a cove 13 kilometers away from her home in the Takenohama district of Ishinomaki. The state of her corpse was too damaged for local police to identify her, though investigators concluded that she was likely from Ishinomaki or close to the city due to the location where her body was found.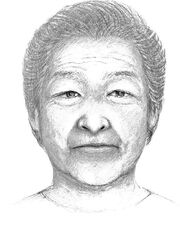 Identification
A DNA sample was taken from Abe's body sometime after the disaster alongside the release of a composite based on the bone structure of her face. Mitochondrial analysis of her DNA through the maternal line found several familial matches on record, thus identifying her body and returning her to her elderly nephew on July 2nd, 2020, for a memorial ceremony in her honor. The local police of the Miyagi Prefecture continue their efforts to identify the 7 remaining unidentified victims of the Great East Japan Earthquake that were found in the area.
Sources