This individual was recently confirmed to have been identified. Some details may change as more information is released publicly.
Kyle Martin, previously known as Palisades Pete, was a man whose skull portion and additional remains were found along the Palisades Reservoir in Bonneville County, Idaho in 2002.
Law enforcement believe the possible cause of death is accidental drowning, but have not ruled out foul play.
In September 2021, he was identified by the Bonneville County Sheriff's Office and Othram Inc.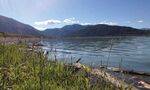 Sources