This individual was recently discovered. Some details may change as more information is released publicly.

Los Angeles County Doe is an individual whose partial skeletal remains were discovered by a hiker in California. The tags had been removed from all of their clothing, indicating that the decedent may have been trying to conceal their identity.
Characteristics
Hair described as short and either being blond or light brown.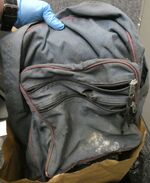 Clothing and accessories
1 meter long brown belt.
Camouflage button-up battle dress uniform shirt decorated with a French Foreign Legion patch, indicating the decedent may have belonged to one of the regiments in the organization.
Camouflage battle dress uniform pants.
Black t-shirt with a small "Syntec" logo on the left sleeve.
White t-shirt with a "Superior Gunite Construction" logo on the back.
Blue backpack with red accents.
"Keystone Light" beer cans.
A pack of "Marlboro Gold" cigarettes.
3 can koozies.
Disposable lighter.
Disposable surgical-style face masks.
Red bandana.
"Accusplit" brand clip-on pedometer.
"Hi-Tec" brand men's black hiking boots, size 10.5.
Sources