Los Angeles John Doe was a boy who was shot to death at a bus stop with another male, who also died. This victim died at the scene, where the other had died at a local hospital.
Case
At 8:45 P.M. on July 19, 1992, the two boys were standing at the bus stop on Vernon Avenue and Compton Boulevard in the Newton area of Los Angeles. A vehicle passed them, where the person inside the vehicle proceeded to shout gang slogans.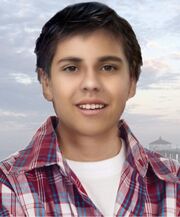 Gunshots were fired from the vehicle, hitting both boys. They were taken to a nearby hospital. The younger victim was immediately pronounced dead while the older victim was pronounced dead on July 20, 1992 at 9:50 P.M.
Characteristics
A fair complexion.
Medium length, straight, brown hair.
A faint mustache.
A scar measuring 1/2" by 1/4" was on his upper left arm.
Clothing and accessories
A t-shirt.
Blue pants.
Tennis shoes.
A Casio watch with a black band.
Sources
Community content is available under
CC-BY-SA
unless otherwise noted.