This individual was recently confirmed to have been identified. Some details may change as more details are released publicly.
This case contains graphic content that may not be suitable for all readers.
Manorville Jane Doe
Sex
Female
Race
White
Location
Manorville, New York
Found
November 19, 2000
April 4, 2011
Unidentified for
19 years
Postmortem interval
Weeks
Body condition
Traumatic injuries
Age approximation
18-40
Height approximation
5'2
Weight approximation
N/A
Cause of death
Homicide
Manorville Jane Doe was a young or middle aged woman whose torso was discovered in Manorville, New York 2000. Her head, hands and right foot were later found near Gilgo Beach, New York in 2011. She is a confirmed victim of the Long Island Serial Killer.
She was identified through DNA match in May 2020 and police are to make an announcement regarding her identity sometime this week.
Case
The nude, dismembered torso of a woman's body was discovered in Manorville, New York on November 19th, 2000. Around 11 years later on April 4, 2011, her head, hands and right foot were found in a plastic bag in the vicinity of Ocean Parkway on Gilgo Beach. No personal items, jewelry, or clothing were found with the partially recovered remains.
Investigators believe she was a prostitute in the New York City area. She is one of eleven victims found along the remote Long Island highway. However, only ten of the victims are believed to be victims of a serial killer.
Characteristics
Brown hair.
Eye color is unknown.
Her left and right nasal nones had previously been fractured and then healed.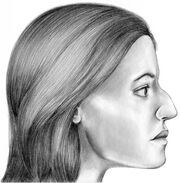 Sources
Community content is available under
CC-BY-SA
unless otherwise noted.