This individual was recently confirmed to have been identified. Some details may change as more information is released publicly.

Marilena-Maria Maftei was a woman who was discovered on 30 January 2021 on Fortrose Beach, near Fortrose Golf Club in Inverness-Shire, Scotland.
She had been reported missing on 22nd March 2021, when her family contacted the police after not hearing from her.
She was identified in May 2021.
Characteristics
Long red/brown hair.
Pierced ears.
Stocky build.
1.5 inch birthmark on right hip.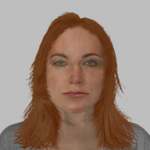 Clothing and accessories
Black/charcoaled GAP brand coloured leggings (Size L).
Black 'Platform style' shoes (Size 5).
Multiple piercings in both ears.
Sources
Community content is available under
CC-BY-SA
unless otherwise noted.