This individual was recently confirmed to have been identified. Some details may change as more information is released publicly.
Marlene Standridge was a woman whose remains were found in a wooded area in Stone Mountain, Georgia in 1982.
She was identified in August 2021 by Othram. She was thought to be black until DNA analysis proved otherwise.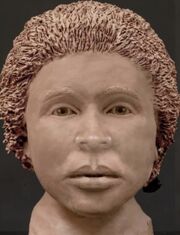 Clothing and accessories
Non-descript shoes.
One blue/green argyle sock.
Maroon/gray striped blouse.
Sources