Melinda Joyce Holder was a young woman who was found deceased in northeast Florida after a fire at an abandoned residence.
Case
Holder was last seen in Green Cove Springs, Florida on January 24, 1989. Her family did not report her missing until June 12 as she was known to go without contact from time to time.
On December 10 1989, the Clay County Fire and Rescue responded to a house fire on 404 Harrison Street in Green Cove Springs, Florida. The house had been abandoned for some time and had been frequented by transients and hard drug users.
Holder's remains were discovered inside the house. According to the medical examiner, she had been dead for days prior to the house fire and it did not appear that she was murdered, as there was no evidence of antemortem trauma or disease.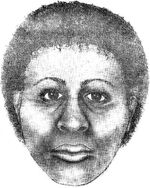 Clothing and accessories
Among her personal items, she was found wearing a navy blue jacket with red lining and "Riteway" patch on it, a cardigan sweater, knobby soled sneakers, and a buttoned shirt.
She also had carried keys with her: two Dexter house keys and two GM car keys that fit 1967, 1975, 1979, 1983, 1985, and 1986 model vehicles. Dexter was a brand of key that was known to be used for commercial washer and dryers.  
Sources