Norfolk John Doe was a young man found deceased in the Elizabeth River, in Norfolk, Virginia in 2003.
Case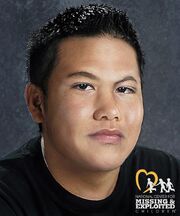 The male's body was discovered days to weeks after his death, most likely after one week's duration. He died from drowning, and was fully clothed at the time.
The exact race of the decedent has been difficult to classify over the years following his discovery. The most recent examination suggested he was most likely of Asian descent, with a potentially additional European ancestry. Despite this, the possibility that he may have been Hispanic remains.
Characteristics
Black hair

He appeared to have been clean-shaven before his death.

No distinctive birthmarks, scars, or tattoos.
Clothing
A black shirt
Blue jeans
Leather, brown-colored belt with an image of a horse on the buckle
Work-style boots, Bahama brand
Blue boxers with a plaid design
Black socks
Sources