Philadelphia John Doe was a male discovered in the Frankford Creek in 1975.
Characteristics
Brown hair.
Light facial hair.
Brown eyes.
Clothing and accessories
Goldish green, pull over knit "v" neck with black knit collar, (Size M).
Grey ankle high socks.
Fruit of the Loom underwear, jockey type, (Size M 34-38).
Blue "Wranglers" denim pants.
Zip-up red Mackinaw plaid jacket in dark blue, red, light green, tan.
White well-worn low-cut sneakers with white soles (Size 10).
Two one dollar bills were found near the body.
Exclusions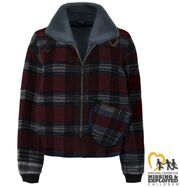 Sources
Community content is available under
CC-BY-SA
unless otherwise noted.