Philadelphia John Doe was a young man who committed suicide in Pennsylvania in 1994.
Case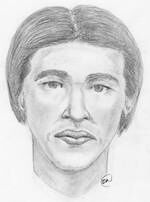 The decedent was found in a men's bathroom stall at the 30th Street Station in Philadelphia. He died from a self-inflicted gunshot wound. The gun he used to shoot himself was a .25 caliber handgun that had been stolen from a Wisconsin residence in 1985.
Characteristics
He had black or brown hair.
He had brown eyes.
He had 1/4" round scar on his right knee pit.
He had a "hyperpigmented brown area" on his upper left chest,
He had "small, snakelike, elevated scars" on his forehead, face, and neck.
He was circumcised.
His teeth were in their natural state and he had no dentures or dental plates.
Clothing and accessories
His outfit consisted of:

A white, long-sleeved sweatshirt in the size XL with "Palm Beach, USA" on the front.
A pair of latex gloves.
Bugle Boy blue jeans.
White undershorts.
White socks.
Etonic white sneakers in the size 7 1/2.

He had a note on him that said "With gloves on his fingers and blood on his toes, he will have music wherever he goes. Don't fuck with the dragons."
Sources