This individual was recently confirmed to have been identified. Some details may change as more information is released publicly.
Phoenix John Doe was a young man near 11th Street by the Southern Pacific Railroad tracks in Phoenix, Arizona on February 4, 1971. He was extremely intoxicated at the time of his death and his cause of death was homicide by being stabbed in the throat. He may have led a transient lifestyle.
He was identified in early August of 2021. Few details are available in his case.
Characteristics
Blonde hair with goatee and unshaven.
Blue eyes.
Clothing
Green shirt with vertical black stripes.
Green pants.
Brown work boots.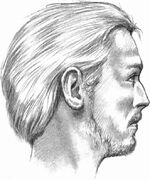 Sources