(One intermediate revision by one other user not shown)
Line 1:
Line 1:
−

{{UID_Infobox|title1=Ramsey County Jane Doe|discovered=July 20, 1977|span={{age|1977|7|20}}|sex={{F}}|location=Saint Paul, Minnesota|age=16-30|race={{White}}|height=5'7 - 5'8|weight=130 pounds|condition={{dec}}|pmi=Hours - 1 year|cod={{ns}}|image1=RamseyCounty1977_2021.jpg}}

+

{{UID_Infobox|title1=Ramsey County Jane Doe|discovered=July 20, 1977|span={{age|1977|7|20}}|sex={{F}}|location=Saint Paul, Minnesota|age=16-30|race={{White}}|height=5'7 - 5'8|weight=130 pounds|condition={{dec}}|pmi=Hours - 1 year|cod={{ns}}|image1=RamseyCounty1977_2021.jpg}}

−
 
−

'''Ramsey County Jane Doe''' was a female whose remains were found in the Mississippi River between Childs and Warner Road, in Saint Paul, Minnesota.

 
 
 
 

She is currently undergoing testing by the DNA Doe Project.

 

She is currently undergoing testing by the DNA Doe Project.

Line 27:
Line 25:
 

[[Category:Teenagers]]

 

[[Category:Teenagers]]

 

[[Category:Young adults]]

 

[[Category:Young adults]]

−

[[Category:No reconstruction]]

 
 

[[Category:Found in bodies of water]]

 

[[Category:Found in bodies of water]]

 

[[Category:DNA Doe Project cases]]

 

[[Category:DNA Doe Project cases]]
---
Latest revision as of 03:41, 3 August 2021
Ramsey County Jane Doe was a female whose remains were found in the Mississippi River between Childs and Warner Road, in Saint Paul, Minnesota.
She is currently undergoing testing by the DNA Doe Project.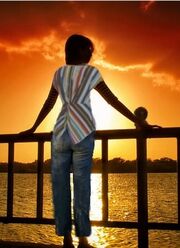 Clothing and accessories
Green, red, blue, vertically-striped shirt with thinner lateral stripes.
High-waisted blue jeans.
Brown, knee-high socks.
Size 5 underwear.
Size 8-9 shoes.
Sources