Seat Pleasant John Doe was a young man found murdered in Maryland in 2007.
He had only been deceased for a few hours prior to being discovered and had trauma to his upper body.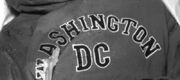 Characteristics
Sparse razor stubble on his face.
Piercing in the left earlobe.
Scattered scars on his knees.
Scar near his navel on the right side of his abdomen.
Clothing
Red hooded sweatshirt with "Washington DC" written on the front in blue
Red stocking-type hat
Black flannel shirt
Multi-colored long-sleeve shirt
Two sets of blue jeans
Two lack belt
Blue plaid boxer shorts
Black Air Jordan tennis shoes
Exclusions
Sources