Line 2:
Line 2:
 

{{Identified notice}}

 

{{Identified notice}}

 

{{Graphic notice}}

 

{{Graphic notice}}

−

{{Identified_Infobox|title1=Shaun Moore|image1=UP76067.jpg|name=Shaun P. Moore|sex={{M}}|age=31|missing_from=Olympia, Washington|disappeared=August 2020|discovered=September 15, 2020|location=Olympia, Washington|identified=December 15, 2020|span=3 months|cod={{Beat}}|caption1=Reconstruction of Moore by Natalie Murry to approximate his appearance during life.}}

+

{{Identified_Infobox|title1=Shaun Moore|image1=.|name=Shaun P. Moore|sex={{M}}|age=31|missing_from=Olympia, Washington|disappeared=August 2020|discovered=September 15, 2020|location=Olympia, Washington|identified=December 15, 2020|span=3 months|cod={{Beat}}|caption1= of Moore by Natalie Murry .}}

 

'''Shaun Moore''' was a man whose remains were found near train tracks in 2020. He was identified later that year, and a suspect was later charged photographs of Moore during life have yet to be released.

 

'''Shaun Moore''' was a man whose remains were found near train tracks in 2020. He was identified later that year, and a suspect was later charged photographs of Moore during life have yet to be released.

 
 
 
+
 
+

[[File:UP76067.jpg|thumb|left|Original reconstruction.]]

 
 
 

== Sources ==

 

== Sources ==
---
Revision as of 03:44, 19 January 2021

This individual was recently confirmed to have been identified. Some details may change as more information is released publicly.
This article includes content which may be disturbing to some readers. Discretion is advised.
Shaun Moore was a man whose remains were found near train tracks in 2020. He was identified later that year, and a suspect was later charged photographs of Moore during life have yet to be released.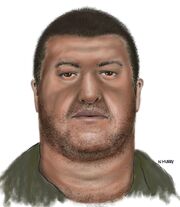 Sources