Snohomish County John Doe
Sex
Male
Race
White
Location
Everett, Washington
Found
June 20, 1980
Unidentified for
40 years
Postmortem interval
3 months
Body condition
Decomposed
Age approximation
20-40
Height approximation
5'5 - 6'
Weight approximation
160 pounds
Cause of death
Drowning (suspected)
Snohomish County John Doe was a male located in the Snohomish River in 1980. His death remains undetermined, but ruled as an "apparent drowning."
Case
The decedent was found in the water near the Dagmars Marina about three months after his death. He had eaten some form of a potato-derived food not long before. The circumstances surrounding his presence in the river are unknown.
He was exhumed in Fall 2018. Authorities may seek genetic testing if his DNA is in suitable condition.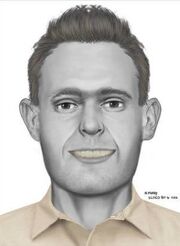 Characteristics
He likely had brown hair.
He had good dental characteristics.
Clothing
Tan, short-sleeved shirt with buttons.
Knit T-shirt, possibly white.
Blue swim trunks with white stripes.
Tan Big Mac overalls.
Sources
Community content is available under
CC-BY-SA
unless otherwise noted.