This individual was recently confirmed to have been identified. Some details may change as more information is released publicly.
Toronto John Doe was a male who was found deceased in the Spadina Subway Station under undisclosed circumstances.
He was identified in August 2021.
Characteristics
Natural teeth.
Short black hair.
Brown eyes.
Described as having a small build.
A beard.
An old deformity located on his left index finger's tip and nail.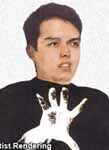 Clothing
Black running shoes with signs of extensive use.
A black touque.
Blue quilted denim jacket, size 40R.
A black t-shirt with a hand design on the front and the band name "SYSTEM OF A DOWN" written on the back.
A black t-shirt with a gun logo and the band name "RANCID" written on it.
Woolen striped green vest.
Torn black t-shirt with an "Indian Motorcycle" logo.
Sources