Wellington County John Doe was a man whose skeletal remains were found along Wellington County Road between Guelph and Cambridge, Ontario in 1970.
He is believed to have been deceased for approximately 20 years.
Characteristics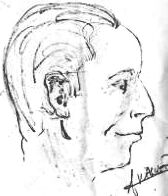 Short stature (between 5'3 and 5'5).
Teeth in excellent condition, but with some marked wear.
Severe osteoarthritis in his lumbar area.
Clothing and accessories
Yellow carpenter's pencil.
Tin spectacle case.
9 various buttons were found: 1 overcoat button, 1 trouser button, 3 shirt buttons, 4 underwear buttons.
Some pieces of fabric that may be from a white shirt and white socks.
Six Canadian and American coins dated 1936-1945.
Half-soled Oxford shoes, size 7.5-8.
Leather belt, size 32, with a Steer's head buckle.
Grey fedora, with the initials "J.U.", "Calhoun's", and "Bathersby" in the hat band.
Sources